Chalet Layout
Designed for the perfect Niseko experience, Casa Bell Chalet is an ideal mountain lodge for a hassle-free holiday. As you enter through the ground floor covered carport to the genkan, there is plenty of space to take off your boots and store them as you slip into indoor slippers. The laundry room and third bathroom is to your left and the third bedroom to the right. A modern staircase leads up to the second floor, opening onto the living and kitchen area with high-beam ceilings and large windows, a balcony and amazing forest views. On either side at the rear of the chalet are the first and second bedrooms, both with private bathrooms and supersized windows.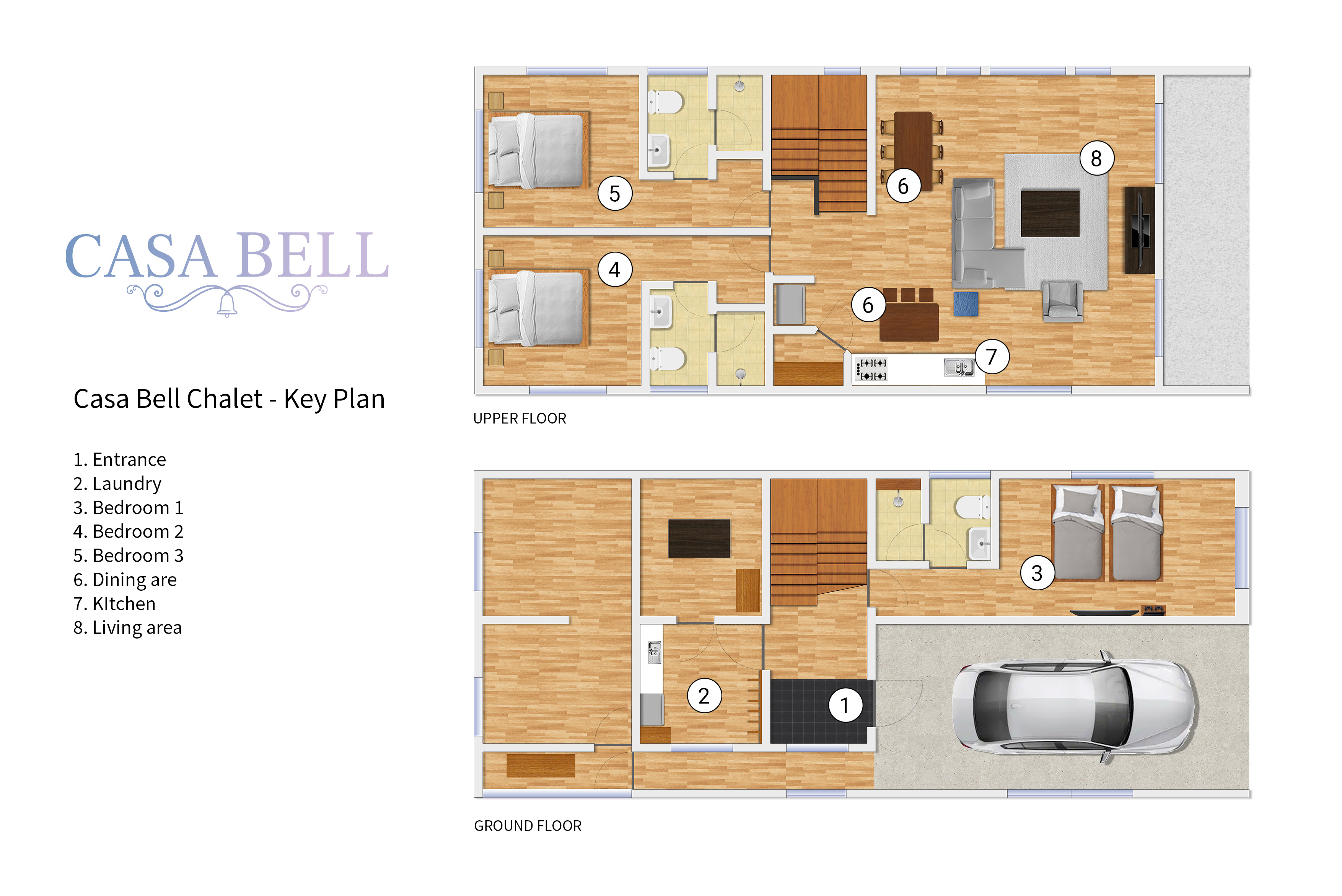 Download in high resolution
Living Areas
The open-plan living room is located on the upper floor in Casa Bell Chalet. It has been designed to complement and showcase the surrounding forest, providing the perfect atmosphere to relax and enjoy your time with loved ones. As you enter via the staircase, your eye is drawn to the floor-to-ceiling windows framing the natural outdoors. An eco-friendly fireplace keeps the room toasty and a TV is available for your viewing pleasure.
A well-appointed kitchen in the corner has all the modern conveniences you will need for cooking delicious meals, ingredients for which you can order via Niseko Gourmet. An island kitchen table seats five on stools, should you want an audience while cooking, though the eight-seater dining table with bench seating is ideal for meals.
The room leads onto a generous balcony, best enjoyed in the warmer months. The chalet's beautiful birchwood floors and high ceilings with exposed beams give a sense of space, while the extremely comfortable couches, luxurious rugs and stylish lighting bring a sense of warmth. The perfect spot to sit back and enjoy a movie or just watch the snowfall as you stay warm by the fire.
Casa Bell Chalet sleeps up to eight people and is perfect for families with children. The two rooms on the upper floor are identical, with king-size beds that can be configured into twins. Stylishly appointed, they provide plenty of space and feature ensuite bathrooms with modern shower units. The bedrooms have high ceilings and large windows. Beautiful wooden flooring gives a sense of being one with the surrounding forest whilst ensconced in the comfort of your warm bed.
The third bedroom or the quad room on the lower floor has four single beds. The different configuration of the room, which includes its own TV and gaming setup makes it perfect for the kids, giving them their own space.